Below are instructions to perform a front desk registration/manually register a swimmer as an administrator/organizer after
logging into Swim Manager
.
Note: Front desk/manual registrations will not create Swim Portal account for registrant. For Swim Portal account to be created, participant must register themselves.
Click People tab from Organization Dashboard (Home)
Click Register an athlete button
Search for existing athlete to register using First name, Last name, and/or Date of birth fields

Searching by First name or Date of birth returns all possible athlete matches
Searching by Last name returns all possible matches, including related family matches
Note: At least one field must be used in order to start search and registration process (aids organizers in avoiding duplicate athletes and entries)
Note: Only one character must be used when searching, however this may result in only "possible matches" displayed as a link - we recommend searching by three (3) or more characters
Click Add registration if athlete match is found
Or
Click Register new athlete if no athlete matches are found
Select Program, Location, Group/Session/Timeslot, and Registration price
Note: Listed are the agency location/s associated to the selected program.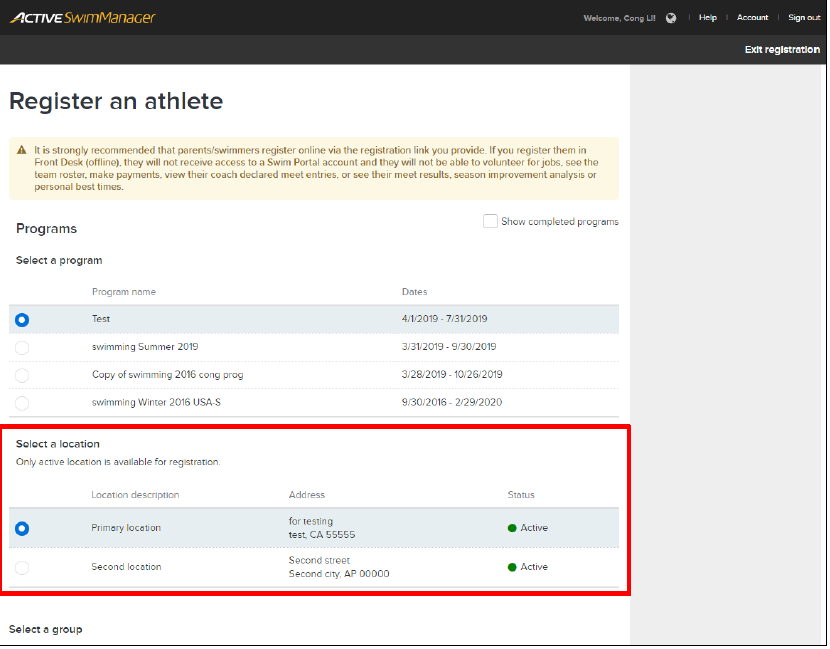 Complete registration form
Athlete information (required)
Primary parent/guardian information (required)
Secondary parent/guardian information (optional)
Secondary contact information (optional)
Additional purchases (section is blank if no additional purchases are available)
Record Waiver (section is blank if no applicable waivers exist)
Select Additional Purchases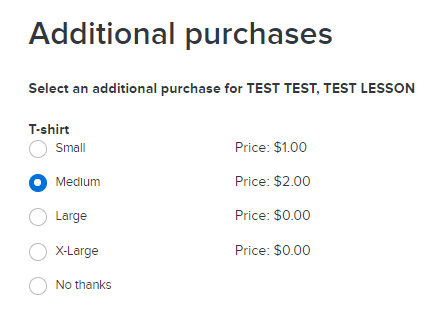 Note: Additional Purchase section will only be available if additional purchase is added to program (Year Round or Lesson/Clinic) 
 
Click Save and Continue
​​Note: Another option is to click Register another member of this family to register someone else within this same order
Review order

Order summary
Payment information
Credit/Debit card
Check
Cash
c. Billing information
Click Complete order button

Registration confirmation screen is reached next, showing successful registration along with basic details of order

Click Exit to return to Organization Dashboard (Home), or click Register someone else to start new front desk registration