Below are instructions to enable USAT sanctioning for a particular registration category after
Log in to ACTIVE Works with Existing ACTIVE Passport Account
. Once USAT sanctioning is enabled, the USAT waiver automatically appears during event registration.
1. From Organization Dashboard (HOME), click
event name
under Your events
2. Click 
Setup
3. Click
Registration categories
on right
4. Click
Edit
next to category name
5. Ensure
Sport type
is set to
Triathlon
or
Duathlon
6. Click
Next
7. Select
Yes
for
Is this a USAT-sanctioned triathlon?
8. Enter
USAT Sanctioned Event ID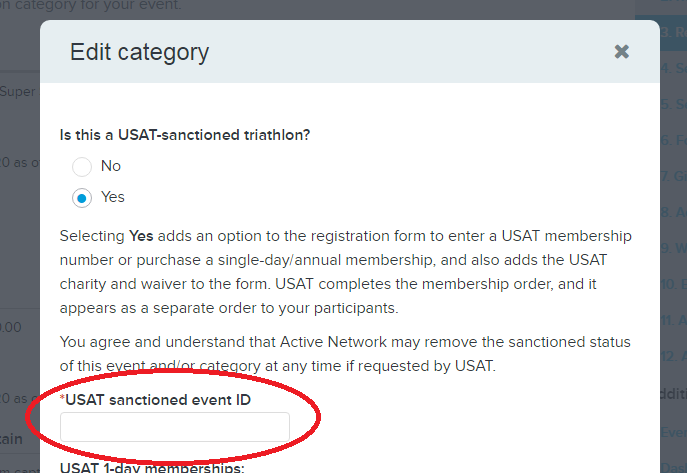 9. Select an option for
USAT 1-day memberships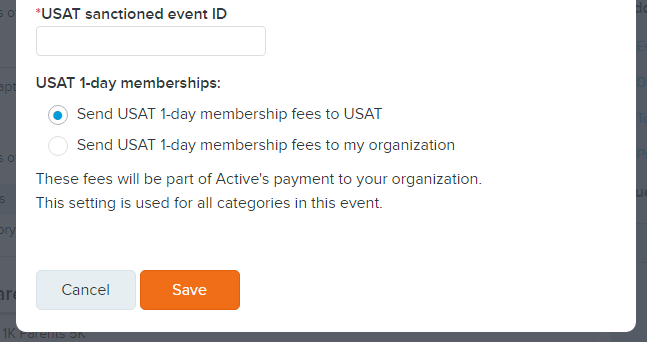 9. Click
Save
10. Click
Save & continue
Note: ACTIVE Network may remove the sanctioned status of this event and/or category at any time if requested by USAT.
     Note: The checkbox beside the USAT Waiver that appears in event registration can only be selected once the waiver has been read (scrolled through) by the registrant. 
    Note:  Non-participating team captains are not required to purchase a USAT membership. In the registration flow, when a customer registers as a Non-participating team captain, the USAT SANCTIONING section is no longer displayed.
For more information about the benefits of sanctioning by the USAT, visit
https://www.teamusa.org/USA-Triathlon/Old-Race-Director-Site/Race-Directors/Sanctioning/Getting-Started