Your event staff can follow the steps below to configure event additional purchase items to be offered only to registrants who match at least one of up to five
Custom Segments
.
(This is only visible to agencies which need have access to the Premium feature
CRM
, please contact your Account Manager if you are interested.)
Click target event's name on dashboard
Click Setup tab 
Choose Additional purchases from Event setup menu
Click Edit button 
Click the pencil icon of target additional purchase item
Under Item details, check the box of an item option
Click Edit button
Choose Custom segment radio button

Note: In the consumer registration workflow (post-registration purchase on MyEvents / On-Site app also included), the additional purchase item is only displayed if the registrant matches at least one of the selected custom segment. 
Note: You may follow the steps in Create a Custom Segment to create custom segments beforehand. 
Note: Internal registration by your event staff can always override the custom segment restriction and made the purchase for registrants. 

Check the box of target segments 
Click Apply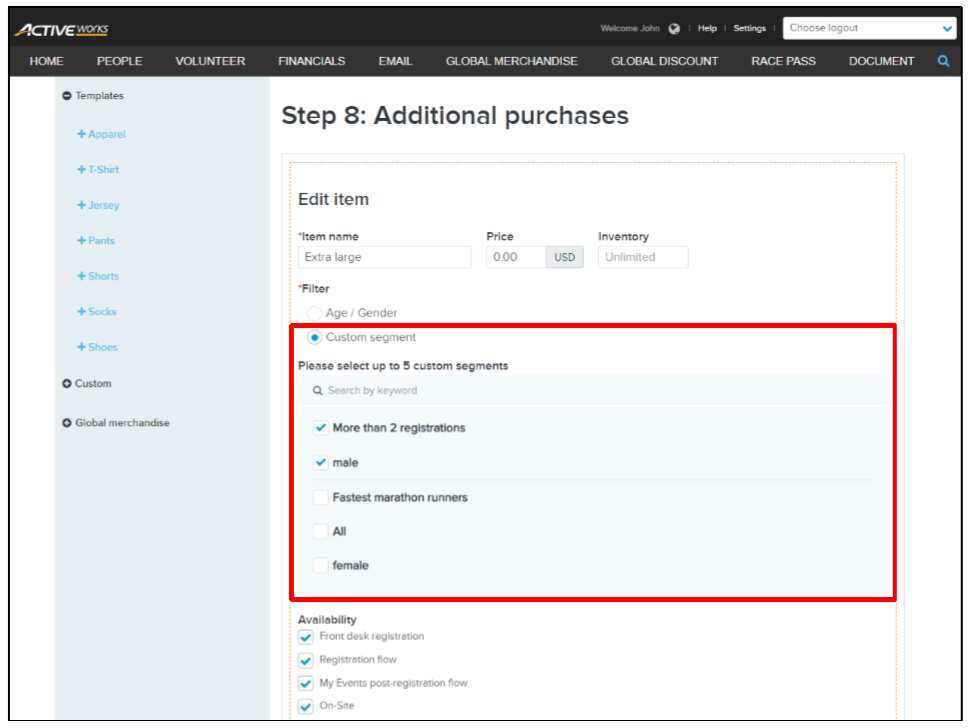 Note: If an additional purchase item is configured to be Use as wave value in Advanced settings, team member registrants can still select or be automatically assigned to the save wave as their team captain regardless of any custom segment restrictions on this item.