Multi-tier
membership requires that one membership must be purchased in conjunction with other membership within an organization's hierarchy. This is most commonly used by national
Governing Body
and
Associated Clubs.Multi-tier
membership program setup must be completed by both
Governing Body
and
Associated clubs
together. Below are the instructions:
Both Governing Body and Associated clubs are required to create Organization Hierarchy setup in Organization Management
Governing Body needs to set their identify in Organization Settings by following steps here: Configuring Governing Body in Membership Manager
Both Governing Body and Associated clubs need to set up membership programs within their own account
Both Governing Body and Associated clubs must set up membership program as Multi-tier purchase as follows:

Open desired membership program
Click Edit Program
Select Multi-tier under Multi-Tier Purchase Requirements
Click Save

Governing Body needs to set up multi-tier purchase as follows:

Open Membership Program
Under Package summary, click View Package options
Within Package options, click View & Update
Under Multi-Tier Purchase Requirements, choose tier number next to Require

​Note: Choose Tier 2 if only child organizations of this governing body must be purchased together; Choose Tier 3 if child organizations of its own child organizations must be purchased together as well, etc.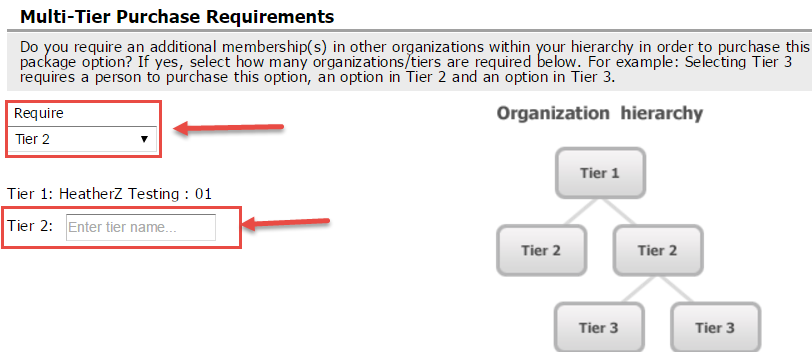 ​
​Type in Tier name to be displayed during online registration process
​​​​Note: Tier 2 Name will be displayed to the public as our example screenshot below:

Click Save
Repeat Step a-e for ALL applicable membership package options until finished
Obtain Registration Link of Membership Program created in Governing Body as the ONLY registration link
Note: Registration links of Associated Clubs are not valid when multi-tier purchase is required
Note: Multi-tier purchase requirements are program-to-program. When new program is created, multi-tier purchase needs to be manually checked as necessary. Otherwise, membership programs will default as Stand-alone purchase only.