If you are a USTA League player who wants to register for a USTA League and have been provided a league Team Number, please follow the steps below. If you are looking for a team to join please go to 
Seeking a Team
:
NOTE
: If you
DO NOT
have the team # please reach out to the
Team Captain
or go to
Leagues Team Captain Contact Information.
If you do not know who the Team Captain is please
go here
to
Find Local League Coordinator
.
If you are having trouble registering for a league please reach out to your LOCAL LEAGUE COORDINATOR. They are your best point of contact for all league related questions and issues
NOTE
: If you want to
CREATE A TEAM
, please go to 
Online League Team Creation
 for steps on how to create a team online
NOTE
: Your USTA Membership must be valid throughout the
ENTIRE LEAGUE SEASON
in order for you to register. For steps on how to extend or renew, please go to 
Renew USTA Membership
NOTE:
 If you need to
SELF-RATE
for the first time or your NTRP rating has expired, please click the
Click here to Self-Rate this player
link to self-rate during the registration process. You can also self rate by going to 
League NTRP Self Rate
NOTE
: If you do not know your USTA #, please login to TennisLink and your account # will auto-populate during the registration process. If you are not able to login or still need help with locating your account number, please contact USTA Customer Care directly. You can find the
Customer Care contact information here
. 
Under Start Playing, click Register With A Team #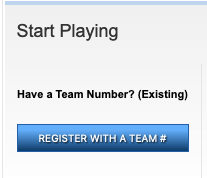 On Register for a Team page, input required fields*
Enter USTA Account number
Note: If you do not know your USTA #, please click LOGIN button (upper right corner) and login with email and password. Your USTA # will auto-populate into the registration form
Enter League Team #
Note: If you are the captain, click the Are you the captain? box
Note: USTA number can be located at USTA Account Number Lookup
Note: To add another registration click the +Add link

Click Continue to proceed to checkout
On Checkout page, confirm league team details
Enter Event Communications email and phone number
Note: If you want to opt-out of Event Communications, please uncheck the Receive announcements and communications related to this league via email and/or text message box

Review Order Summary
Enter payment information
Click Submit to register