Create New Registration Categories
Different races or distances within the same event are referred to as Registration Categories, or Categories, in ACTIVEWorks Endurance. Categories are created as the primary option that registrants will select when registering for your event. For example, they may choose the half-marathon or 5K category on your ACTIVE.com listing to initiate registration. 

Below are instructions to create new category during new event set up.
From Organization Dashboard under Your events, choose event name
Click Setup
Click Registration categories on right
Click Add a category and select the following (all items are required):

Category Type such as Adventure, Duathlon, Running, Triathlon, Walking
Distance (the options vary based on Category Type selected)

Example: 5K, 5k run/30k bike/5k run, 10 Mile, 12 Hour, Half Century, Olympic

Display Name (default is Category Type-Distance)

Example: Running-Half marathon

Click Save

Click Edit beside Category restrictions
Click Edit next to Date & location 
Click Add a price and select the following

​Price type such as Individual, Individual chance entry, Group-registration team and Non-participating team captain
​Display Name which displays to the consumer during online registration and in reports
Price
Click Save

Click Edit beside Price restrictions
Click Save & continue
Note: 
Registration categories and its price types will be presented as the followings at registration link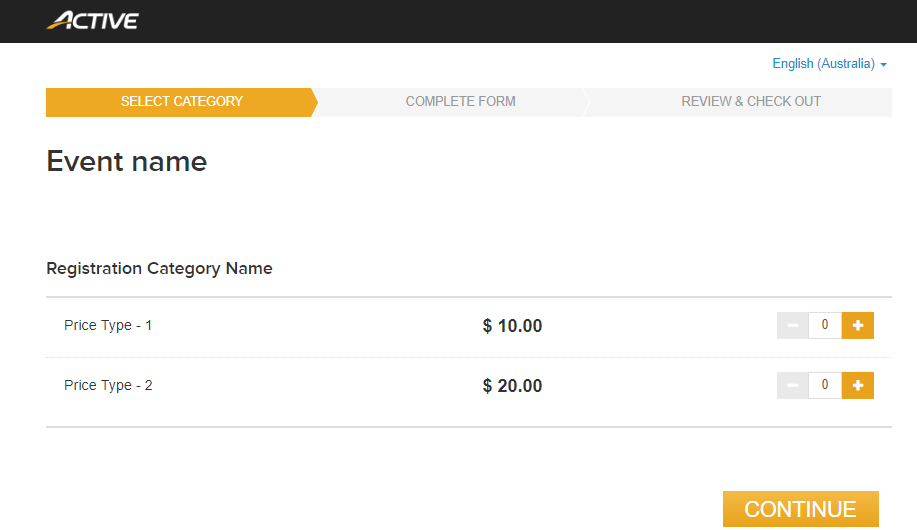 Was this article helpful? YES NO
Email
Us