Captains, below are instructions to send Pre-Paid invites to members of your team using the Team Center of your registration. Pre-Paid invites are additional team member registrations you may have purchased during the process of creating your team.

You can access your registration when signed into myevents.active.com with the account you used to register.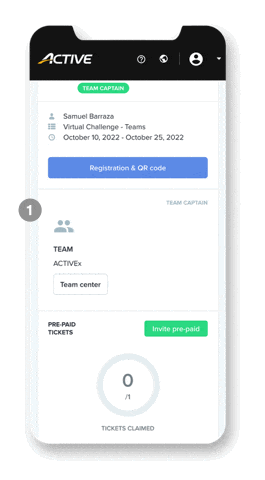 Locate Team Center section on your registration
Press Invite pre-paid

Edit pre-paid invitation message:

Press Send email
Note: An automatic invitation email will be sent to the invitee(s) to Accept a Prepaid Invitation
Note: 
If your invitees don't receive the invitation email, please check junk/spam folders and also verify that the security settings are set to allow automated messages generated from ACTIVE.com. Some email providers allow the creation of a safe or white list - we suggest adding senders @ACTIVE.com and @ACTIVEnetwork.com to this list. If emails are still not received, contact your email provider to ensure that emails from ACTIVE are not blocked.
Note: You can also Resend Invitation Emails to Pre-paid Invitees in the case they failed to receive it.