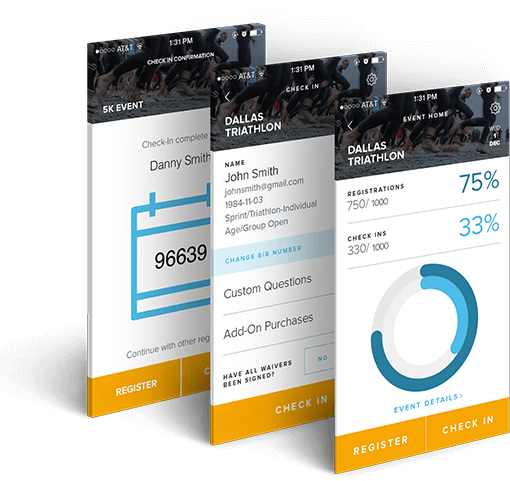 Elevate the experience for you and your participants, while saving time and boosting revenue – all within the palm of your hand.
Use ACTIVE On-Site for:
► Check-In: Eliminate long lines at your expo or on event day. Check in your participants via QR scan, name, team name, email or phone lookup and instantly assign them a bib. The app seamlessly syncs with ACTIVEWorks® to access participant and team information.

► Registration: Capture last-minute registrations at your expo or on race day to continue maximizing revenue all the way up until the last wave of participants arrives at the starting line. Volunteers are able to register last-minute participants, ensure waivers are signed and collect credit card or cash payments quickly and securely

► Merchandise Fulfillment: Mark merchandise as "fulfilled" when purchased or picked up with merchandise fulfillment. Know who has and hasn't received their purchases so you can ship out incomplete orders from your HQ after event day. 

► Dynamic Bib Assignment: With ACTIVE On-Site, you're able to assign bibs at expo or race day by keying in the bib # or scanning the bib QR code. Easily access a participants registration and assign them the next bib  in your stack.

► Waiver Management: No more needing to store paper waivers in a warehouse or searching through boxes if an incident occurs. Validate that participants have signed the necessary waivers before event day, or even have them sign on the spot by typing their name, taking a selfie, or signing digitally with their finger. 

► Custom Content: Have a loyalty program for your participants or different cap colors for your triathletes? Incorporate these custom fields and answers directly into the app with custom content. This flexible tool empowers your event staff to better identify participants during check-in and on race day.

Getting Started
Manage