Customer Credit Card Chargeback FAQ
What is a chargeback?

A chargeback refers to a transaction reversal initiated by the cardholder's issuing bank or creditor. Your customer may file for a chargeback with their issuing bank or creditor for one of the following reasons:
Customer does not recognize charge on their credit card

Duplicate charge on their account

Charge is deemed fraudulent

Customer never received the services/merchandise

A recurring charge does not stop after cancellation completed

Customer is not satisfied with services that were rendered
A chargeback is initiated when the cardholder contacts their issuing bank with questions regarding the charge(s) in question. The issuing bank issues a credit while the charge is investigated. The bank requests supporting documents from the merchant (Active processor) to validate the charge.


What does ACTIVE Network do when a chargeback is initiated?

When ACTIVE Network receives dispute documentation from our Payment Processor our team provides supporting documentation back to the issuing bank on our client's behalf. Chargebacks can be complex and can be issued for a variety of reasons requiring varying paperwork, so we dedicate a team to responding to and refuting chargebacks. ACTIVE Network provides compelling evidence to disprove any fraudulent activity associated with the transaction. If the issuing bank deems the evidence enough to overturn the card holder's dispute, the funds are returned to the merchant. ACTIVE Network sees a high success rate during these credit card disputes, wherein the disputed charge is reversed and the cardholder has agreed to pay the amount owed.


What happens if a chargeback is lost?

If the cardholder opts to continue to dispute a transaction after supporting documentation has been provided to substantiate the charge, and their issuing bank sides with the cardholder by refunding the amount back to the cardholder's card, there is no further action that can be taken by ACTIVE Network or the Payment Processor. At this point, the transaction will be reversed in your database the day after a confirmed chargeback loss.  The Active Account Statement will reflect the chargeback amount and order number for reference.

Your organization may then determine the next best steps to handle the chargeback receipt or order. If the event or activity this customer has not occurred, you may cancel the customer's registration or you may contact them directly for further payment. If you would like to receive emailed notifications of a chargeback being submitted by one of your customers, please contact our Account Management team to be added to our next day notification list


Can I edit a pending chargeback order? 

Registration or membership orders with a pending credit card chargeback are now flagged with a This order has a pending chargeback message: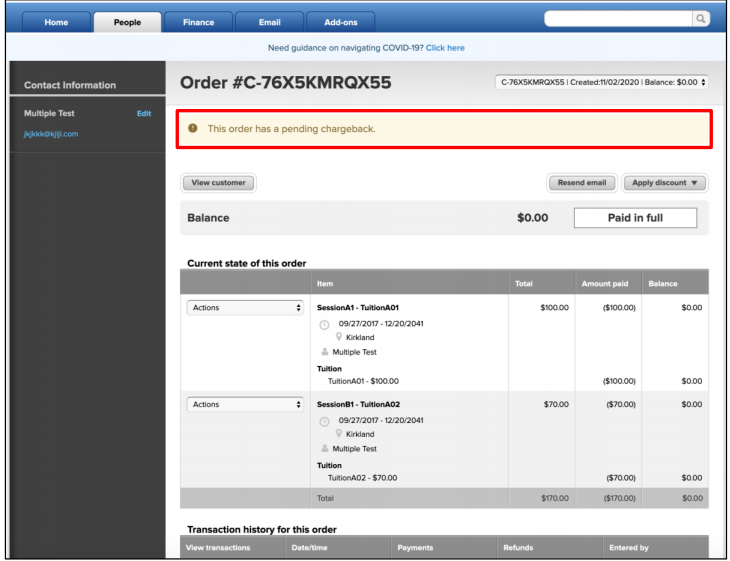 For an order with a pending chargeback, refund is limited in the following workflows:
Apply discount dropdown > Apply a coupon or Add other discount
Actions dropdown > Edit purchases or Transfer or Add other discount or Cancel
View transactions link > Adjust payment button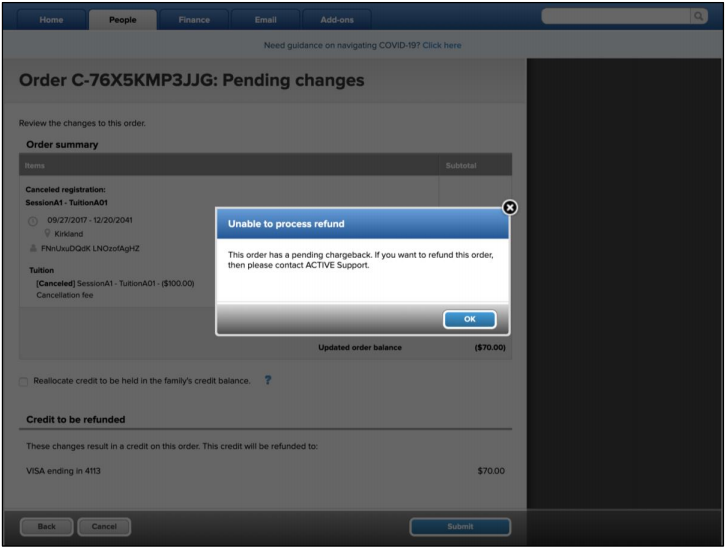 If an agency user attempts to issue a refund, it is recommended to check with your customer/cardholder to confirm the chargeback request. 
Was this article helpful? YES NO