When Making a Payment on an Account, a credit card must have been stored by the customer.

A credit card can only be saved on the Review cart & check out page during registration. A box that says Store this card for future use is available under the payment information fields (see below). If customer did not check this box, no credit card will be stored and you must contact them for the credit card information.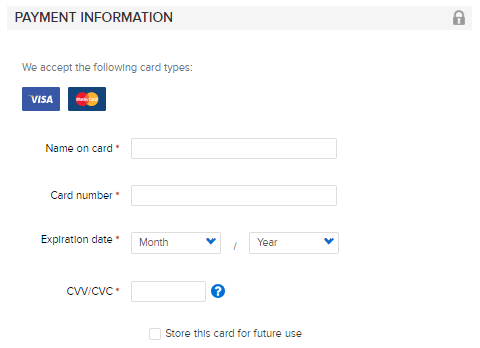 To check if credit card was stored by customer:
    Click People tab

    Search for registrant and click name

    Click Make Payment
Note: If person has more than one order, select correct order from drop down menu
    For Payment method, select Credit/Debit card
    Click drop-down list below next to Credit/debit card to see if credit card is saved
Note: Credit card type along with the last four digits will display if saved
    If no card is present, contact customer for credit card information

If you require consumers to save their payment information for future use, please contact support to enable Save customers' payment information feature, and provide your explanatory text to explain why the payment information must be saved for their understanding. (255 characters uplimit.)

At checkout step, if the transaction amount is NOT zero, consumers are required to enter credit card/eCheck information to complete the registration, and the payment information is saved for future use. 
The explanatory text will show up on the checkout page as below (highlighted in green.) The checkbox of Store this card for future use is automatically checked and cannot be unchecked.