Registration language format can be switched by participants by clicking the language drop-down menu on the top right of their screen:

Alternatively, you can force the registration form to load in a certain locale by adding it to the end of Registration Link.
Example: To force your registration form to display Australian English:
1. Obtain direct registration url by clicking link under 
Your registration link!
 , which should look like this:https://endurancecui.active.com/new/events/40857953/select-race?_p=45303258899179544
2. To force locale, you should now add an addendum "
&locale=en_AU
" in the end
3. Final product should look like this: https://endurancecui.active.com/new/events/40857953/select-race?_p=45303258899179544&locale=en_AU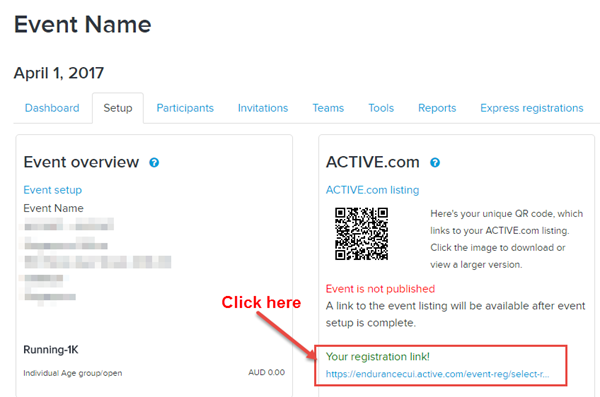 Below is a list for all regions:
Dansk (Danmark): &locale=da_DK
Deutsch (Österreich): &locale=de_AT
Deutsch (Schweiz): &locale=de_CH
Deutsch (Deutschland): &locale=de_DE
English (Australia): &locale=en_AU
English (Canada): &locale=en_CA
English (Great Britain): &locale=en_GB
English (Ireland): &locale=en_IE
English (New Zealand): &locale=en_NZ
English (United States): &locale=en_US
English (South Africa): &locale=en_ZA
Español (España): &locale=es_ES
Español (México): &locale=es_MX
Pilipino (Pilipinas): &locale=ph_PH
Français (Canada): &locale=fr_CA
Français (Suisse): &locale=fr_CH
Français (France): &locale=fr_FR
Italiano (Svizzera): &locale=it_IT
Norwegian (Norway): &locale=no_NO
Japanese(日本): &locale=ja_JP
Korean(한국어): &locale=ko_KR
Bahasa Melayu (Malay): &locale=ms_MY
Português (Brasil): &locale=pt_BR
Svensk (Sverige): &locale=sv_SE
Simplified Chinese(中国 China): &locale=zh_CN
Traditional Chinese(香港 Hong Kong SAR): &locale=zh_HK
Simplified Chinese(新加坡 Singapore): &locale=zh_SG
Traditional Chinese(臺灣 Taiwan): &locale=zh_TW
Thai (ไทย): &locale=th_TH
Català (Espanya): &locale=ca_ES
Poski(Polska): &locale=pl_PL
Cymraeg (Cymru): &locale=cy_GB