The Confirmation email engine has been upgraded to allow you to improve the layout and design of your Event Confirmation Emails in multiple languages. All ACTIVEWorks users are now able to use either the traditional default system confirmation email or this new custom email.

You can create as many fully customized emails as you need for each category in your event. The following is a generic custom email to demonstrate how you might update the design of your event's confirmation email:
Click desired event name under Your events
Click Setup
Click Emails sent out
Click Confirmation email
Click the Fully customize content tab > Add custom email button:

Select either:
• Create new to create a new email template.
• Copy from to copy an existing template (only custom templates from the same event are listed in the dropdown).
Enter the Email name for your reference and for making future copies (e.g. Template Generic Marathon / Template Half Marathon / Template Full Distance).
• You can then use these templates to create specific custom emails with unique images.
Click Next to customize the email content.
• The system will always pre-load the generic template below as a starting point.
• For the best look and feel, please resize your images before importing them.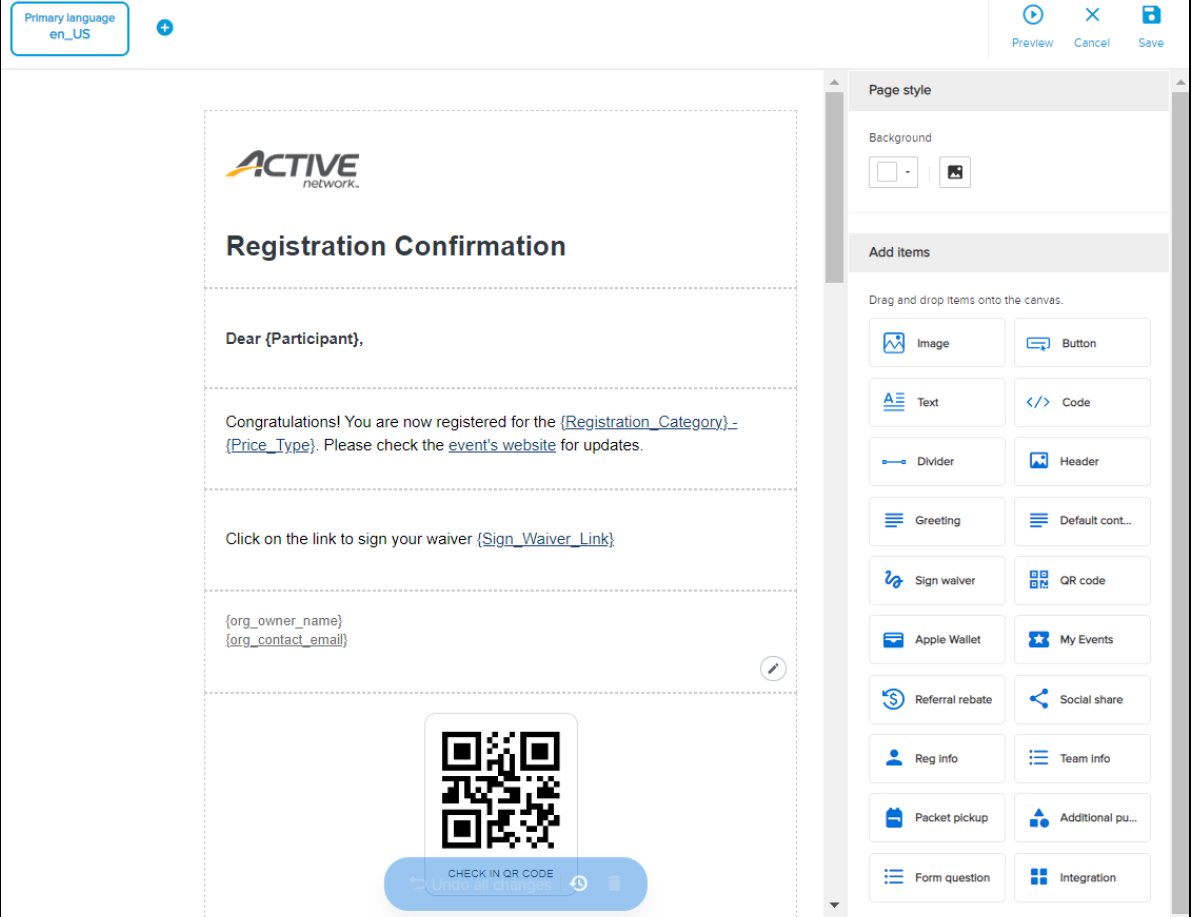 By default, the displayed custom email is in the primary language (based on the Event setup > Event details > Location). To add custom email content in other languages, click + and then follow the procedure to Add Multiple Language Version For Confirmation email.  
Select the background color and image in the Page style panel.
Customize the email content by dragging-and-dropping fields as required from the Add items panel to the template.
• Items added are automatically translated into the language of the displayed template except for any text that you enter. Please enter your text in the required language.
In the top-right corner, click Preview to preview the email in desktop () or mobile phone () mode:
Click Save to save the custom email.
In the Send for dropdown, select the categories/price types for which the confirmation email will be sent:
• To edit a custom email template, click

.
• To delete a custom email template, click

.