Allow Participants to Upload Document After Registration
You may need to give participants the option to upload a permission slip, an ID or a passport picture. Below are instructions to enable the option for participants to upload documents after registration via the participant portal MyEvents.

Note: Document Management is a Premium feature. If you do not see this function in your event, your organization may use the PRO plan and need to upgrade to Premium plan by referring to Upgrading Your ACTIVEWorks Endurance features to use this feature. 
On Organization Dashboard (HOME), under Your event, click an event name
Click Setup
Click Registration categories
Click Edit next to price type
Check the box for Allow participants to upload document after registration​
​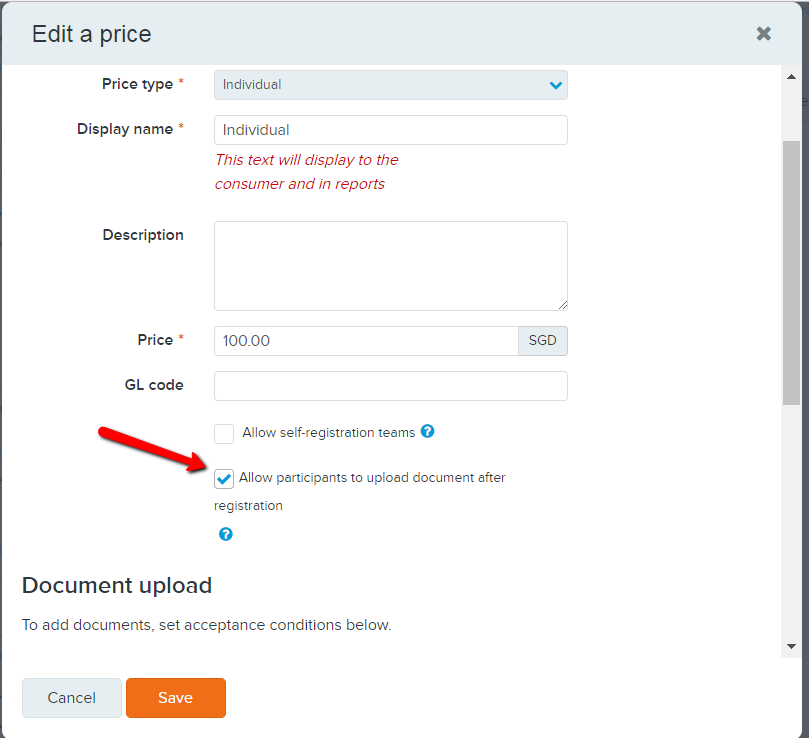 In the Document upload area input the name of the document and select the Type and Acceptance rule

Type:

Medical Certificate
Licenses
Parental authorization

Acceptance 

Payment cleared: The participant is Confirmed and will receive a Confirmation email as soon as payment is complete.
Document uploaded: The participant is Confirmed, but will receive their Confirmation email when they upload their document.
Document approved in document management tool: The participant is confirmed, but will not receive their confirmation email until they upload a document and it is approved.

​​​​​​​​​​​​​​​​​​​​​Press Save
Note: Format: PDF, JPG, GIF, HEIF, HEIC, AVCI or PNG, size less than 3MB
Note: Once this option is enabled, participants may upload files post-registration by referring to Upload Files After Registrations (Endurance)
Was this article helpful? YES NO
Email
Us